Botanical collections
The principal botanical collection contains approximately 122,000 plant specimens.

The vascular plant herbarium includes 90,000 specimens, of which 88,700 are leaves, and the rest fruits, seeds, and strobili. Most of the material was collected in Estonia, andthe collection contains specimens of a predominant part of the domestic flora - 1,600 taxons.
The Museum of Natural History's vascular plant herbarium contains 66 typical specimens (from the Hieracium, Valeriana, Ranunculus, and Taraxacum genera). The oldest specimens date back to the 1830s. The most voluminous aggregate collections are the Baltic herbarium (14,700 leaves from 1839 – 1900) and the Estonian herbarium (26,000 specimens collected starting 20. century).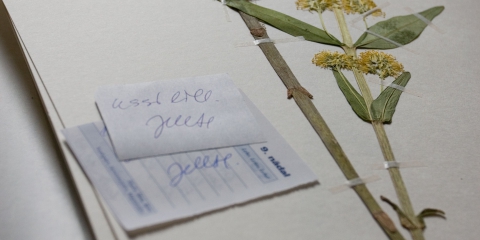 Of private herbariums, the most sizeable one (11,700 leaves) belongs to pharmacist-turned-hobby botanist Rudolph Lehbert. The plant material collected in 1877-1927 in various locations in Europe and Siberia includes an abundant supply of Birch Hybrid and Reed Bent. Schoolteacher Jules Treboux, known as the breeder of Pärnu Tuviõun (Pärnu Dove Apple) aka Trebuu, was another zealous hobby botanist. His plant collection, mostly accumulated during the second half of the 19th century, includes more than 10,000 leaves. However, the largest collection will be the herbarium of Heinrich Aasamaa, a prominent botanist of the previous century, which contains approximately 30,000 specimens and is currently under reorganization.

The bryophyte herbarium includes 32,000 specimens, of which nearly two thirds were collected in Estonia. Bryoflora from the Estonian islands and coastal areas is especially well represented. Of the 601 Estonian moss species, the herbarium contains 481. The general herbarium that holds foreign moss samples contains a little over 2 000 species. Mosses from the Arctic area, Australia, and Papua New Guinea are well represented. The oldest specimen in the moss herbarium dates back to the year 1854.
Contact:
The Museum of Natural History Department of Botany and Mycology
Phone: (+372) 660 3327.
E-mail: jana-maria.habicht[ät]loodusmuuseum.ee or loore.ehrlich[ät]loodusmuuseum.ee